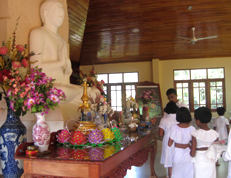 METTA BUDDHIST CENTRE


VISION STATEMENT

Metta Buddhist Centre aims to promote the study and practice of the Buddha Dhamma for the benefit of all mankind. Guided by the Buddhist principle of Metta (Altruistic Love), we are dedicated to help the disadvantaged improve their lives and build a brighter future for them.
MISSION STATEMENT
To propagate the Buddha Dhamma, Metta Buddhist Centre:

Offers free religious services;

Provides free Dhamma classes;
Builds / restores Buddhist viharas or temples
Train young novice monks.


To render help to the disadvantaged and in particular orphans, homeless children and underprivileged youth, Metta Buddhist Centre established the Metta Social Services Foundation with the aim to:


Set up youth centres providing safe and conducive environment for orphans and homeless children together with self-development and empowerment programmes;
Organised educational enrichment programmes;
Conduct Vocational Training programmes.
\
Copyright © 2009. All Rights Reserved. Site by mettalk.org